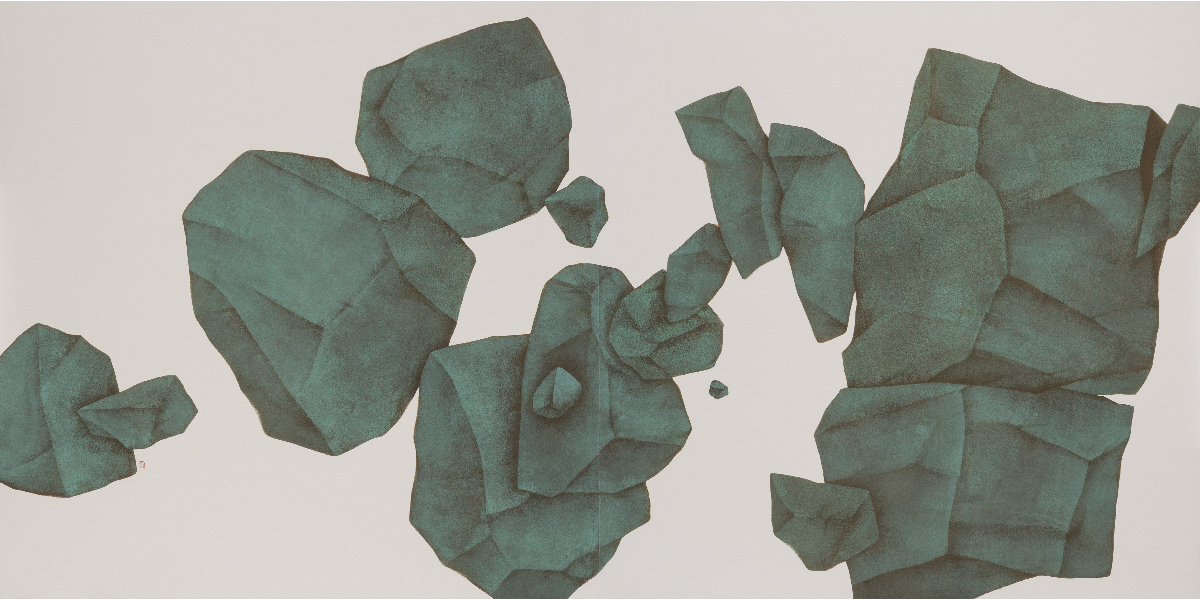 Genesis 开天辟地
140 x 280 cm
Pigment and acrylic on canvas
2016
I began my stone series some years ago after a walk through the Bukit Timah Nature Reserve in Singapore. There, I saw granite rocks strewn amid the greenery, silent figures unperturbed by birdcalls, cicada buzz and stifling humidity.
 The first paintings in my stone series are flat, pitch-dark rock silhouettes made with black pigment and Chinese ink. The rocks have now become more sculptural and three-dimensional. The colours are quite unlike the traditional ones you may find in Chinese ink paintings. To get bolder, more striking, more compelling colours, I combine vibrant pigments with traditional Chinese ink and colours. Stroke by stroke, layer upon layer, I apply the colours to get the desired intensity and leaving the effect of age on the stone surfaces.
石头系列缘起于几年前游武吉知马后山,遇见许多造型朴拙的大石,依势矗立于山林间。似尘世外的隐士,那淡然自在的神态,仿佛让人可以闻到清寂的气味。
起初我用了漆黑的背影去体现它在旷野中那深沉及孤高的气质。为了丰富黑的层次,用墨之外,也搭配炭料般的色粉。近期的石头作品多了立体感,也用了鲜艳的色粉,呈现出不同于传统水墨的质感。层层叠叠一笔一笔的刻划石面, 积累后的效果像是停留在石面上的斑斑岁月。